How about working and advancing your career
here with us at Tonomura?
We are looking for new staffs that will
enjoy working with us!
All Tonomura's staff is kind, active in communication, jovial and full of smiles. It is a workplace with a warm, family-like atmosphere. Ample support, such as induction training and qualification obtaining support, is available for those who have no experience or qualifications and senior colleagues' careful consultation will help you start working easily.
Tonomura has a happy and warm atmosphere and here you will be able to realize your growth. We are looking forward to working with you here!
A typical day at Tonomura
6:00-

Wake-up, washing and dressing Setting table for breakfast (with residents able to do it)

7:00-

Clearing tables and dishwashing (with residents able to do it) Measurement of body temperature, walk (or fitness exercises)

10:00-

Morning leisure time (coffee time etc.)

12:00-

Lunch, clearing tables and dishwashing (with residents able to do it)

13:30-

Bath

15:00-

Afternoon leisure time (snack time etc.)
Recreation

18:00-

Dinner, clearing tables, dishwashing etc.
Relaxing exercises, relax time
Screening of videos (TV programs etc.), getting ready for bed
Bedtime
Career Advancement Plan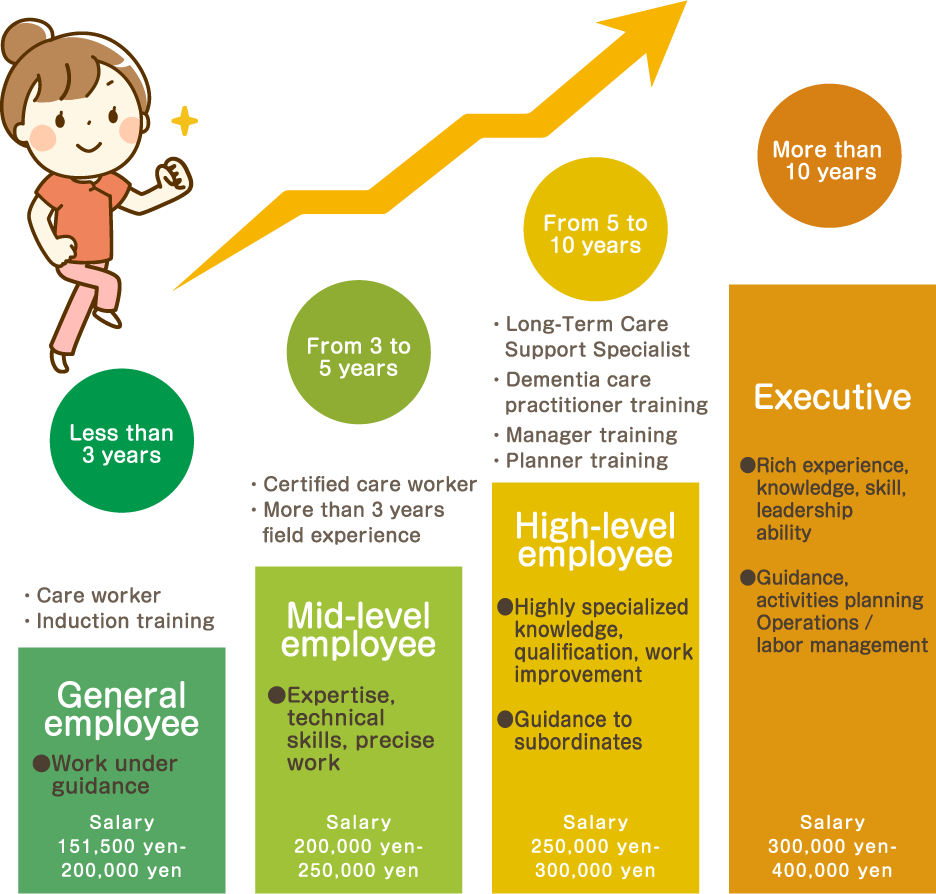 Salary and treatment
Job type
Part-time care worker
Qualification requirements
No educational qualification required
No experience required
No license no qualifications required
Special consideration to nursing license holders
Employment pattern
Part-time (employment period is not defined)
Job vacancies: 2
Salary details
・Care worker: 950 yen-1,200 yen an hour
・Night shift: 12,090 yen-15,120 yen at a time

・Bonus will be paid. In the previous year: once a year or 10,000 yen-50,000 yen
Salary details
・Care worker
Base salary (per-hour) or hourly wage
950 yen-1,200 yen

・Night shift
Certified care worker 15,120 yen at a time
Care worker induction training etc. 13,300 yen at a time
During training 12,090 yen at a time
Working hours
・Care worker
1) 7:00-16:00
2) 10:30-19:30
3) 11:30-20:30
Short-time part-timers able to do 5-hour shifts between 7:00 to 20:30 also wanted.
*Work hours are negotiable (doing only day shifts possible)

・Night shift
4) 20:30-7:00

No overtime work
Prescribed number of working days per week: from 2 to 5
Day-off and holiday
・Weekends off are negotiable
・Two days off per week. Other holidays / annual paid holidays will be prescribed according to prescribed number of working days
Treatment
・Commuter allowance available. Actual cost will be paid, for a maximum of 10,000 yen per month.
・Insurances: employment, industrial accident, health and welfare
・No transfer
・Retirement at 70 for all
・Possibility of re-employment until 75
・Day nursery: not available
・Car commuting: permitted

・Care worker
* Inexperienced candidates can apply. Induction training and consultations are provided to new staff so as to let them master work.
* Work days and hours are negotiable
* Possibility of conversion to permanent employee or long-time part-timers (who can do night shifts)
* Possibility of working within the limits established by dependent allowance system
* Salary increase: 10 yen ~ 100 yen per hour

・Probation: 3 months
Different working conditions are applied during probation.
First 3 months' salary: 900 yen per hour

・Night shift
* Permanent employee will always be present on the same floor during night shifts
* Twilight shifts (2 or 3 times in 1 month) with one senior colleague that will provide
guidance, are planned during the training period.